JOHN COLTRANE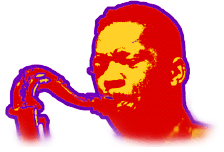 John Coltrane, also known as "Trane", was one of the most important figures in 20th century jazz, particularly in the twelve years between 1955 and 1967. During this time, his experiments with the tenor and soprano saxophones involving intense improvisation led to the evolution of Hard Bop from Bebop. His innovations during those twelve years helped shape contemporary jazz and influenced generations of jazz musicians who followed him.
Coltrane was born in 1926 in a small town in North Carolina. He grew up in High Point, North Carolina, where he began playing the alto saxophone and moved to Philadelphia after high school. He was drafted into the Navy at the age of 19 and played clarinet for a year in a Navy band called the Melody Masters, returning to civilian life in 1946. He supported himself by working a variety of jobs through the late forties until he joined Dizzy Gillespie's band in 1949, playing the alto sax.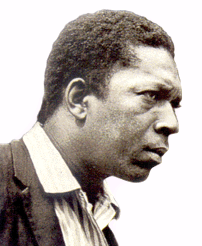 In the early 50's Coltrane made the switch to the tenor sax, an instrument which seemed to push his innovation with improvisation. In 1955 he joined Miles Davis' legendary first quintet, although he left the group for a time to successfully kick his addiction to heroin. Between 1958 and 1960, he contributed to such important Miles Davis recordings as "Milestones" and "Kind Of Blue", two of the most influential Jazz albums of the time. In 1960, he formed his own quartet and a year later the album "My Favorite Things" marked the beginning of Coltrane's commercial success.
The period between 1961 and his death in 1967 was also the height of his critical success as a bandleader, composer, and perhaps the greatest saxophone improviser in the history of jazz. Throughout this period he experimented relentlessly with his instrument and began to explore a variety of new jazz ideas, which resulted in the development of free form jazz (also known as the "New Thing") and collective improvisation. Both of these were radical departures from the customary sound of jazz at the time, and in pushing these forms Coltrane created considerable controversy, turned off many of his fans and limited the size of his audience, while at the same time expanding the limits of the jazz genre.

John Coltrane was very quiet, introspective man whose life was almost totally dedicated to a musical-spiritual search for new meaning and forms of expression in jazz. Perhaps this search is best expressed in Coltrane's own words:
"I've got to keep experimenting. I feel that I'm just beginning. I have part of what I'm looking for in my grasp, but not all."
Despite his efforts to live a healthier life, as he grew older, the excesses of his youth, overwork and alcohol contributed to his untimely death from liver cancer at the age of 41 in 1967.
At this point, let's try to find some of John Coltrane's work. The available Coltrane web sites do not provide audio clips. About all the "legal" sites that you can find on the web have only short clips as samples of Coltrane's work. These may be worth listening to give you an idea of what his music sounded like, but to really get a feel for his work, you need to listen to his entire songs. Again, so we suggest the local library.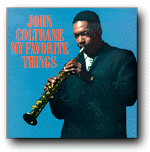 One of the essential "Trane" songs to listen to is "My Favorite Things"

from 1960. This landmark Coltrane recording is found on a number of compilations of his music; a very good source is the CD named "The Best Of John Coltrane" from Atlantic Records. "My Favorite Things" is a rather long song, actually almost 14 minutes long. Trane's quartet, which consisted of him playing the soprano sax, along with McCoy Tyner on piano, Steve Davis on bass and Elvin Jones on drums, exploits the length of the song in a series of brilliant improvisations. It is interesting historically that the long organ solo by Ray Manzarek on "Light My Fire" by the Doors is based on the improvisation in this song. This CD includes a number of other landmark Coltrane compositions, including "Niama" and "Giant Steps."
The best Coltrane web site that we have been able to find is the John Coltrane Site by Dave Wild, which contains some information on Coltrane's life, a discography, and some assorted facts.