CHARLIE PARKER
Bop is no lovechild of jazz. Bop is something entirely
separate and apart. It's just music. It's trying to play
clean and looking for the pretty notes. -- Charlie Parker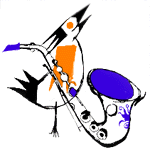 Charlie Parker was born in Kansas City in 1920, and died in 1955 at the age of 35 in New York City. During that very short life, he was married four times and fathered five children, and was one of the most important and influential jazz musicians of the 1940's and 1950's.
Parker, who usually played the alto saxophone, was the most important figure in Bebop, the musical form that revolutionized jazz in America in the mid-Forties. Also known as the "Bird" or "Yardbird", Parker's innovative ideas about jazz harmony and rhythm, along with his extraordinary command of the saxophone, made him one of the most respected jazz musicians of the middle 20th century.
Charlie Parker grew up listening to the great jazz and blues bands that were part of the flourishing Kansas City musical scene in the 1930's. While a young student, he played in the brass section of his school band, and began playing the saxophone when he was 11. While in high school Parker played with local bands, and quit school at the age of 15 to pursue a career in music.
When he was 19, Parker moved to New York, and worked as a musician and a dishwasher in a restaurant and often was involved in jam sessions. The thriving New York City jazz scene energized him and greatly influenced his musical style, and in 1945 he formed his own group and made a series of performances and recordings that defined what was to become Bebop. This was an entirely new kind of experimental jazz with harmonies that were more complex than earlier jazz, with rhythms more varied and unpredictable, and with very fast tempos. With the advent of Bebop, jazz went from big-band dance music to far more artistic music, based on improvisation and spontaneity, designed for serious listening.
In 1946, Parker suffered a serious drug related nervous breakdown and was confined to a state hospital for seven months. After being released the next year, Parker formed a quintet, which included trumpet player Miles Davis and drummer Max Roach that performed some of his best and most critically acclaimed music. Enjoying considerable success in both the United States and Europe, he performed in major concert venues and made numerous recordings until 1955, when he gave last public performance at Birdland, a jazz club in New York named in his honor. In his last years Parker's exceptional music contrasted with an increasingly chaotic personal life involving addictions to both heroin and alcohol.
Depressed by the death of one of his children and in poor health, Parker died of a hemorrhage related to pneumonia while watching television in the apartment of a friend a week after his last public performance.

Parker became a leader in the area of experimental jazz during his lifetime because of his very strong emphasis on the creative aspects of improvisation. A typical Charlie Parker song would begin and end with a recognizable tune in which the members of the group would play together. What happened in the middle of the song was an outpouring of spontaneity, with one or more members of the group providing a solo improvisation, as well as improvising off what the other members were doing. This, of course was a highly sophisticated version of "call and response", where one band member would call with his instrument and another would respond. Because this activity was not formalized, or written down, each time one of these compositions was played, it would differ from previous versions, depending who was playing and the mood of the artists.
It is not difficult to make a connection between Bebop and Abstract Expressionism, which was developing at the same time, because both art forms depend so much on improvisation and spontaneity. Now might be a good time to listen to some music by Charlie Parker, which can be found at the web site below:
This site has three examples of Parker's work. We also recommend that you check with your local library for CD's of Charlie Parker's music, and that you try to listen to at least one of his songs in it's entirety.
A song that we would suggest is "K. C. Blues" from 1951. This may be found on The Original Recordings of Charlie Parker from PolyGram Records. In this example, Charlie Parker is working with a quintet, with Parker on alto sax, Miles Davis on trumpet, Max Roach on drums, Walter Bishop Jr. on piano, and Teddy Kotick on bass. This CD has a wonderful collection of Parker's work from 1947 to 1953, and each song is an excellent example of Parker's music.