Wikipedia Article on Phil Spector
Phillip Harvey Spector (born Harvey Phillip Spector, December 26, 1939) is an American record producer, musician, and songwriter who developed the Wall of Sound, a music production formula he described as a Wagnerian approach to rock and roll. Spector was dubbed the "First Tycoon of Teen" by writer Tom Wolfe and is acknowledged as one of the most influential figures in pop music history. Later in his life, he became notorious for the 2003 death of actress Lana Clarkson, of which he was convicted of second degree murder.
Born in the Bronx, Spector began his career in 1958 as the co-founder of the Teddy Bears, performing on guitar and vocals, and penning their US number-one single "To Know Him Is to Love Him". In 1960, he co-founded Philles Records, and at the age of 21, became the youngest ever US label owner to that point. Over the next several years, he wrote, co-wrote, or produced records for acts such as the Ronettes and the Crystals, and later, John Lennon and George Harrison of the Beatles. He often employed what would become known as "the Wrecking Crew" as his de facto house band while collaborating with arranger Jack Nitzsche, engineer Larry Levine, and various Brill Building songwriters. Spector's other chart-topping singles include "You've Lost That Lovin' Feelin'" (Righteous Brothers, 1964), "The Long and Winding Road" (Beatles, 1970), and "My Sweet Lord" (Harrison, 1970).
Spector is considered the first auteur among musical artists for the unprecedented freedom and control he had over every phase of the recording process. Additionally, he helped engender the idea of the studio as its own distinct instrument. His honors include the 1973 Grammy Award for Album of the Year for co-producing Harrison's Concert for Bangladesh (1971), a 1989 induction into the Rock and Roll Hall of Fame, and a 1997 induction into the Songwriters Hall of Fame. In 2004, Rolling Stone magazine ranked Spector number 63 on their list of the "100 Greatest Artists of All Time," and for their 2003 list of "The 500 Greatest Albums of All Time", included his productions of Presenting the Fabulous Ronettes (1964), A Christmas Gift for You (1963), and Back to Mono (1991). According to BMI, "You've Lost That Lovin' Feelin'" (co-written and produced by Spector) is the song that received the most US airplay in the 20th century.
By the mid 1970s, Spector had produced eighteen US Top 10 singles for various artists, but following work with Leonard Cohen, Dion DiMucci, and the Ramones, he remained largely inactive. From 2007 to 2009, he was the subject of a trial and retrial for murder. He is serving a prison sentence of 19 years to life and will be 88 years old before becoming eligible for parole. Continue Reading ...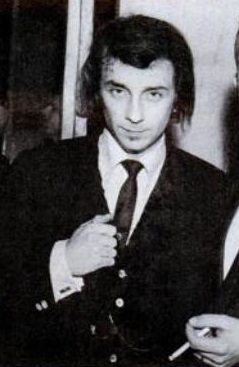 Phil Spector © 1965 Billboard
Page editor and author: C.F.