Every artist and musician is influenced to varying degrees by their life experiences. Their childhood, educational background and culture all shape their perception of the world and inform the methods by which they respond to it creatively. It may sound harsh, but in the case of performance artist and sculptor Vito Acconci, he was influenced by his experience of growing up with a rather menacing appearance, and responded to experiences of childhood rejection by his peers with performance works based on confrontational and disquieting social gestures.
Prior to his career as a visual artist, Vito Acconci was a poet. Born in the Bronx, New York in 1940, he attended the Holy Cross College in Massachusetts graduating with a degree in writing. After receiving his MFA (also in writing) from the University of Iowa he returned to New York in the late 1960's, where he continued to write poetry and stories.
During this time, he began attending various poetry readings and performance works by the art group Fluxus. Inspired by these more active visual works, and the paintings of Jasper Johns, Vito made the decision to explore more physically engaging and interactive forms of expression.
He made the switch from poetry to performance because, as he has often said, "he did not want to guide people from one side of the page to the other, but from one side of the room to the other." This attitude accurately describes the repellent quality of Vito's directly confrontational performance works that explore the relationship between the artist and the audience as opposed to the audience and art object.
One of his earliest performance works, "Following Piece," took place on the streets of New York rather than in a gallery or performance space. The artist would follow complete strangers around for minutes, or sometimes hours until they entered private buildings. Although Acconci photographed the various incidents, his intention was to document the process rather than create art.
The art was, however, the space he created between himself and his involuntary subjects, and their reaction to his presence. As a form of communication, the "Following Piece" played upon the fears of participants and fueled their discomfort, a theme that continued in many of his early works. Around the same time, Vito did a similar performance in a New York museum, where he would appear each day and stand too close to museum visitors, thus invading their personal space.
Vito's medium was his own body, which he featured in the majority of performances he produced in the 1970's and early 1980's. For one of his most notorious works, "Seedbed" (1972), the artist constructed a simple wooden ramp in the gallery under which he would spend the entire day masturbating. When visitors came into the gallery and walked up the plywood ramp Vito would describe his sexual fantasies about that person. Although the patrons could not see Vito, like an inverted peep show he could see them through a small hole cut in the ramp.
His erotic fantasies were heard throughout the room as they were spoken into a microphone and amplified through a speaker at the top of the ramp. Needless to say, these fantasies would change as the people above him on the ramp changed, and as you might expect from a highly creative person, the fantasies were vivid and diverse. As you know, it is not unusual for people to have such fantasies. What is very unusual, however, is to hear another person's fantasy about you spoken out loud.
In 2016, one of the most recent exhibition of Acconci's work was held at MoMA PS1, in 2016, commemorating the 40th anniversary of PS1, which was founded in 1976. Here is a link to the page.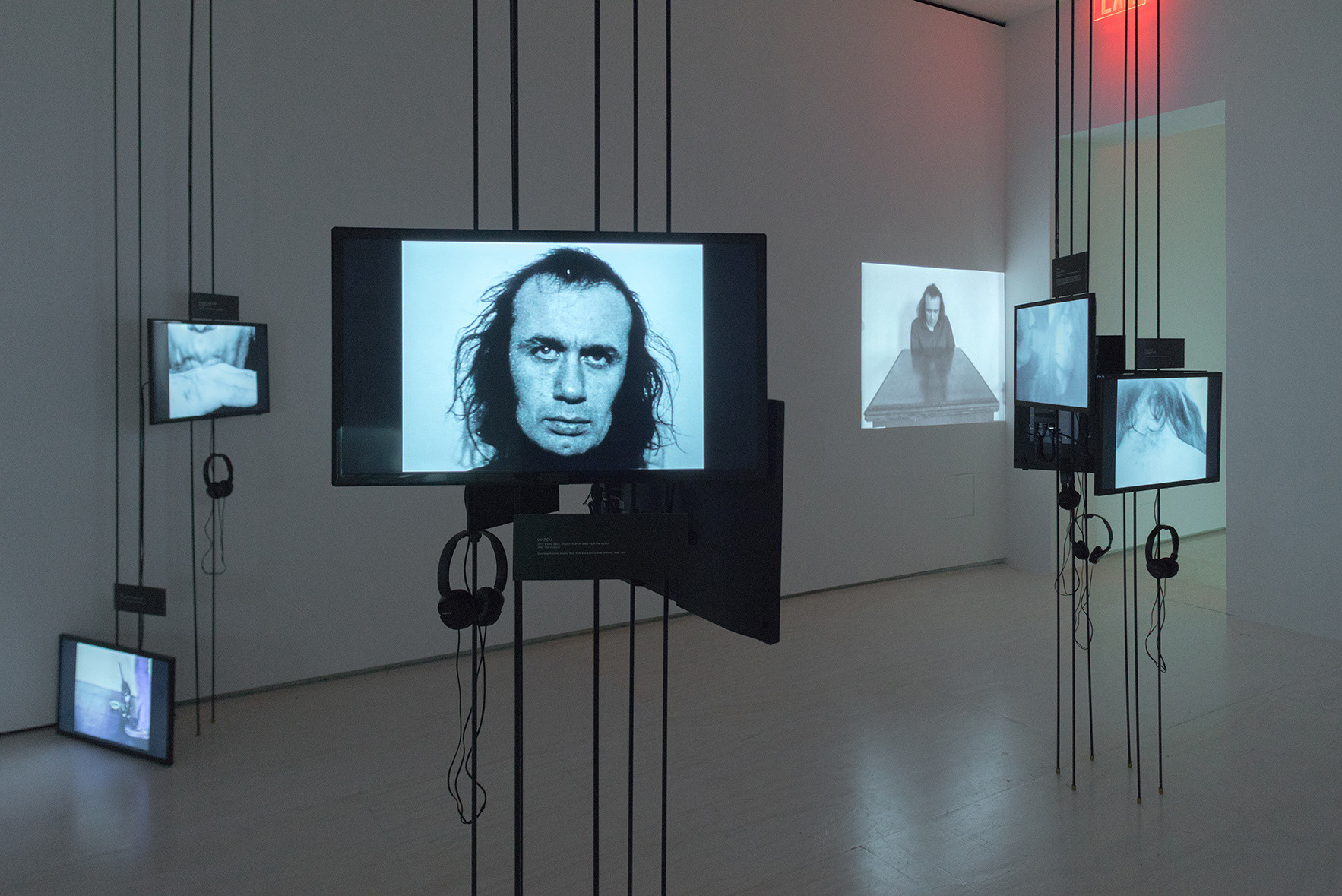 Although some people found this flattering and interesting, others were so shocked upon realizing what they were hearing that they immediately fled. Regardless of reaction, a highly unusual system of communication had been established in that space, and a relationship between the artist and the spectator was forged, although that relationship was often negative.

Many of Vito Acconci's performance works are aggressive, controversial, disturbing, and often masochistic. Whether he was biting himself to the point of drawing blood, or systematically removing the hair surrounding his navel using only his fingers, Vito challenged viewer's comfort level within a more inflammatory art environment. Although many of his works were also intended to be humorous, much of the public was alienated by his explicitly sexual and often violent antics.

In the 1990's, Vito has concentrated on more formal architectural sculptural forms, which address the context of the space in which they are presented such as galleries and outdoor sites. Some, but not all, of these works have the outrageous attitude of his earlier works, and address erotic issues. In the mid-1990's, he showed large sculptures of bras that were cushioned to be comfortable to sit in and had soothing music piped into them.

He has proposed public sculptures (not built) based on the form of a bra and also a crashing airplane. Although his work is now much milder, he is remembered as a major figure in performance art and an artist who unflinchingly approached sexual subject matter.

>

Page author: A.E.