JULIAN SCHNABEL
From 2010, Morley Safer profiles this titan of art and film. Julian Schnabel's painting took the art world by storm in the 1980s and then Julian Schnabel reinvented himself as a film director to more kudos.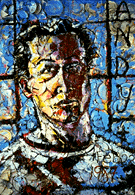 Julian Schnabel was born in 1951 in Brooklyn, New York. He grew up in a Jewish neighborhood until the age of 14, when his father moved his family to Brownsville, Texas in 1965. Uprooted in a new town and school, Schnabel turned inward and began to paint. After graduation from high school, he enrolled in the B.F.A. program at the University of Houston concentrating on painting. He then continued his studies at the Whitney Museum Independent Study Program in New York City.
Schnabel decided to stay in New York after the program ended and held a variety of odd jobs. However, because the cost of living is so high in New York City, he had to move back to Texas. In Texas, Schnabel was able to devote more time to painting and soon developed a style that was quite different for the times. He would dig crater-like holes into the canvas. These works were shown at his first solo exhibition at Houston's Contemporary Arts Museum.
That show prompted Schnabel to try the New York City scene again. He found job as a cook for the restaurant, "The Locale," which also happened to be a downtown artist's hangout. Through a fellow young artist, he found a studio where he would paint and would frequently invite the regulars from the restaurant. On one occasion, Mary Boone, a then young and unknown art dealer, took Schnabel on his offer and took a peek. Though perplexed at first at what she saw, Boone could not shake the images from her mind. She decided to offer Schnabel a showing at her gallery. The four paintings he had on display were sold. This success led Boone to follow up with an additional showing of his work the following November.
What Boone realized was that Schnabel was on to something entirely new, and very different than what was popular in the art world at the time. This new art, which was called bad painting at first, later began to be known as Neo-expressionism. It attempted to break many the present artistic rules and to return art to its most basic elements of visual expression.
At this second showing in 1979, Schnabel unveiled his plate paintings. These paintings were enormous and wild with pieces of crockery sticking out from the canvas. Again, the show sold out. In 1981, Schnabel's recognition grew more as the well-known art dealer, Leo Castelli teamed up with Mary Boone to exhibit Schnabel's work. More of his plate paintings appeared in this show as well as muddy paintings of boyhood icons and imagery.
With his newly heightened reputation, Schnabel began to exhibit in Europe. In 1982, he participated in a large group show called Zeitgeist in West Berlin. Critics felt that the new group of artists at this show wanted to shake up the art world by liberating themselves through their art. Schnabel wanted to shock the audience by breaking all the conventional art rules. He did not care if the plates in his paintings were permanently adhered as plates sometimes crashed onto the gallery floor.
He also knew that velvet paintings were taboo in the art world, but moved forward with his plan anyway. He painted subjects that were considered by some critics as childish, taboo, and of bad taste. He painted female crucifixes, large portraits of his dog, and obscene words on velvet.
This led some critics to believe that his popularity was solely a product of his association with Leo Castelli and the money poured into the SoHo gallery scene by the real estate business and Wall Street. As Schnabel gained recognition and fame, so did Mary Boone. This relationship bothered Schnabel, and he decided to leave Mary Boone, Leo Castelli, and SoHo for the Pace Gallery in Uptown Manhattan in 1984.
This move proved to not harm Schnabel's reputation for here he held one of his strongest shows. Despite what critics may have said about Schnabel's reputation and quality of work, Schnabel believes his work is about unchained freedom of expression of the mental state.
Schnabel continues to paint and has made a film about Jean-Michel Basquiat in 1995. He lives with his wife and two daughters in a large loft-studio in Manhattan as well as a house in Bridgehampton, Long Island.
Page author: L.C.