R. E. M.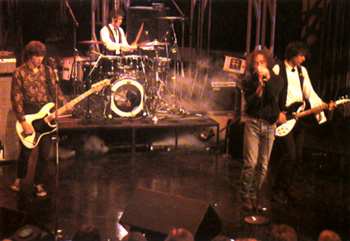 R.E.M's earliest roots can be traced back to the friendship between Macon, Georgia high school buddies, bass player Mike Mills (1958) and drummer Bill Berry (1958), who had played together in several bands. Together the aspiring musicians left Macon to attend the University of Georgia in Athens, where they eventually hooked up with vocalist Michael Stipe (1960), who was studying art at the time, and guitarist Peter Buck (1956). At first they called themselves Twisted Kite. Influenced by the Byrds, and American punk musicians such as Patti Smith, and encouraged by the blossoming local music scene in Athens, that was producing bands like the B-52's, the four dropped out of college in 1980 to pursue music full time.
So that is where it started for R.E.M. Four guys in Athens, Georgia who wanted to play their own music. Legend has it that R.E.M was chosen as a name by the band members randomly flipping through pages in a dictionary. Their first single Radio Free Europe in 1981 marked the beginning of American alternative rock. Their mysterious although melodic sound, combined with Stipe's nasal and somewhat murky voice and his often poetic but strangely confusing lyrics came to redefine rock in the 80's and to send it in a new, alternative direction.
Throughout the 1980's the band received critical acclaim and slowly changed their status from a cult band to the mainstream.
Combining folk and pop with experimental music and instrumentation, in 1991, R.E.M. released their most popular album "Out of Time", which exemplified their more refined and maturing style. The album included the song "Losing My Religion", which the group has made into a critically acclaimed video. The video involves sophisticated religious symbolism derived from art from the Middle Ages, as well as complex and jarring contemporary images.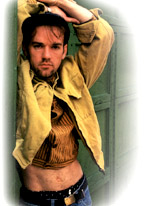 Stipe's interest in Patti Smith, not only as a musician but also a person, has continued. He has also continued his interest in visual art. He is often involved in the design of the group's albums and his photographs, often blurry, appear on several of them. In 1998, he had a major exhibit of photographs of Patti Smith at an important New York art gallery, the Robert Miller Gallery. Commenting on his career as an art student and artist, Stipe once said "I kind of slacked my way through college. My paintings suck, and I'm not very good at drawing, but I've always been good at taking pictures."
Although the band remains together still in 2000, drummer Bill Berry has retired to become a farmer. After 18 years, and 11 albums R.E.M. is now a trio, and producing what Berry has referred to as their best and most experimental music yet.
Page author: A.E.