TUPAC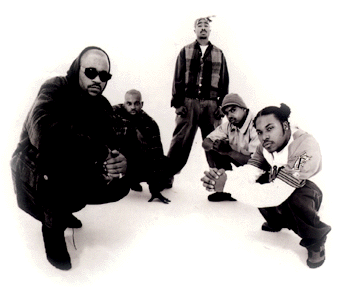 Tupac Amaru Shakur was considered one of the greatest and was certainly one of the most well known gangsta rap artists when his life was cut short by an unsolved shooting in Las Vegas on September 7, 1996.
Tupac was born in 1971 in Brooklyn, N.Y. Both his mother and father were members of the Black Panther Party, exposing Tupac to the world of black activism from an early age. Tupac and his family lived between the Bronx and Harlem until 1986 when they moved to Baltimore. In Baltimore, Tupac attended the Baltimore School for Performing arts for two years.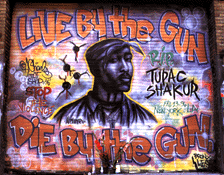 Tupac had to quit school in 1988 to move out to Oakland, California with his family. Living in California, Tupac began to get in trouble as he got involved with criminals and began to sell drugs. Despite that, in 1990, he began his way up in the rap music world when he joined the rap group, Digital Underground, as a dancer and rapper.
In 1991, Tupac made his first solo album, "2Pacalyps Now", which launched his career. The album contained the successful singles, "Trapped" and "Brenda's Got a Baby". The album reached #13 on the R&B charts. That year, Tupac also enhanced his celebrity status by appearing in the movie, "Juice".
In 1993, Tupac released his second album, "Strictly For My N.I.G.G.A.Z" featuring the singles, "Keep Ya Head Up" and "I Get Around". The sales of this album sky-rocketed as it reached #4 on the R&B charts and #24 on the pop charts, eventually becoming platinum. That year, Tupac also starred opposite Janet Jackson in the film, "Poetic Justice".
During the next year, Tupac faced a series of arrests, wrongful death suits and shootings. Despite all of this negative action, he appeared in yet another film, "Above the Rim" and worked on his third album, "Me Against The World". The album debuted at #1 on the Billboard Pop charts and became double platinum in 7 months, fired up by the single "Dear Mama". At the time of the release of "Me Against The World", Tupac was serving time in the New York Rikers Island Penitentiary on a four and a half year sentence for alleged sexual abuse. This gave him the rather dubious distinction of being the first artist in history to have a number one record while in prison.
With the help of Marion "Suge" Knight, CEO of Death Row Records, Tupac was released from prison on $1.4 million bail. Tupac then signed onto the Death Row label and recorded his fourth album, "All Eyez on Me", which is the first double album in rap history. The album varied from his earlier work with its softer new gangsta style rap that embraced elements of earlier R & B. The album was another top charter on both the R&B and pop charts becoming his best seller with over 6 million copies sold. After the album, Tupac concentrated more on acting than rapping as he appeared in the films, "Bullet" and "Gridlock'd".
Just as his life seemed to be turning around, on the night of September 7, 1996, Tupac was gunned down while riding in his car in Las Vegas in route to a charity concert. Tupac died six days later from the injuries suffered from the gunshot wounds. The murder case still remains a mystery, although the rap world has been filled with rumors and speculation about who caused the loss of one of their very original pioneers.
Page author: L.C.