RADIOHEAD
Here Radio head's "Daydreaming" on their latest album"
Radiohead first formed in the mid-1980's as a weekly meeting of four teenage schoolmates from The Abingdon School for Boys in Oxford, England. The original four members, drummer Phil Selway (1967), guitarist Ed O'Brien (1968), bassist Colin Greenwood (1969), and singer/guitarist Thom Yorke (1968) would gather in the school's unoccupied music room on Friday afternoons to bang out original tunes influenced by bands such as U2, R.E.M., The Smiths, and Elvis Costello. Eventually they added a fifth member, Colin's younger brother Jonny (1971), as a third guitarist and keyboard player.
In the early years they called themselves On a Friday, a less than provocative title reflecting their habitually established day of rehearsal. At a time in their lives when many young musicians are forced to abandon adolescent dreams of musical success, the five remained committed to the project while attending college.
Eventually the band discarded higher education, as well as their original name, and in 1991 began calling themselves Radiohead, a title appropriated from a Talking Heads song. Now in their early twenties, Radiohead was able to devote themselves to a more intensified pursuit of music. In the same year they adopted their new name, Radiohead released a demo-tape, "Manic Hedgehog", which caught the attention of EMI subsidiary Parlophone.
One year later, in September of 1992, EMI released their second single "Creep"; a self-deprecating ballad that is as lovely as it is piteous. Although the single was positively received in the UK, reaching a modest 32 on the charts, it wasn't until a full year later that "Creep" appeared in heavy rotation on U.S. college radio.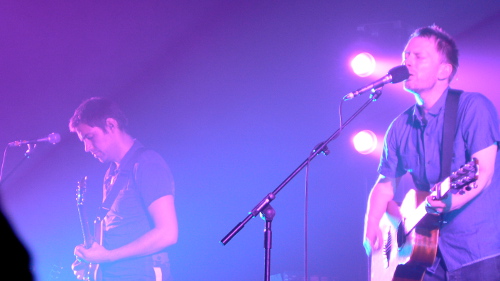 In the fall of 1993, nearly six months after the spring release of their debut album "Pablo Honey", Radiohead was soliciting international attention. The concentric rings of the music's original impact radiated throughout Europe, The United States, The Middle East, and back to the UK where by this time "Pablo Honey" had reached gold status by selling two million copies.
Radiohead became keenly aware of their potentially fateful position on the illustrious pop podium. "Creep", which encapsulated the emotions and shortcomings of a generation, was praised as a contemporary rock anthem similar in status to Nirvana's "Smells Like Teen Spirit", and Beck's "Loser".
Radiohead's second, comparatively less successful effort, "The Bends", didn't achieve equivalent commercial success, but was highly praised by critics. The album reveals the band's self-conscious struggle to maintain its personality individually and as a band within the confines of external expectations. The "Bends" was Thom's album, exemplified by one track, "High and Dry", an eye-filling confession revealing the torturous and paranoid fear of abandonment. While "The Bends" climbed the charts internationally, the band spent half the year touring with rock mentors R.E.M. throughout Europe and the United States.
Radiohead released their third disk, "O.K. Computer" in the U.S. on July 1, 1997, and it was hailed as an extraordinary musical accomplishment. "O.K. Computer", an intricately layered landscape of guitars and electronic instrumentation, broke ground for a new genre of rock music. Almost manic at times, the arrangement of tracks jumps from the bleakest melancholy to positive, if not spiritually uplifting expressions celebrating the postmodern condition.
With "O.K.", Radiohead had tapped into a vein of contemporary music culture that had not previously been accessed. Seven years, three albums, and forty-two singles into their public career, Radiohead has solidified their reputation as the cynical, yet poetic misfits of contemporary rock music. However, in application to Radiohead stylistically, the term "rock" becomes somewhat subjective. Vastly diverse terms such as art-rock, alternative, progressive, postmodern, and futuristic have been employed to contextualize and attempt in some way to understand from where the band came, as well as to where they are headed.
Regardless of their inability to conform to a specified musical genre, it is clear that Radiohead has carved out a niche undeniable unique in character. Their experimentation with both familiar sounds, as well as styles from R.E.M., U2, and Pink Floyd resonates through the structural framework, however is a radical departure from past musical trends. The combination of intense lyrical and melodious emotion inherent in their music is both psychologically and viscerally compelling.
Through the mesmerizing vistas of complex arrangements, Radiohead's music stirs listeners to a heightened level of contemplation, defining and simultaneously revealing the concerns of both an evolving generation of rock music and its listeners. Radiohead's much anticipated fourth full length release, "Kid A" has just become available.
Page author: A.E.