SHANIA TWAIN
Here is a YouTube mix of music by Shania Twain.
Like much of the music originating in the 1990's, Shania Twain offers up a style of music that pulls from more than one genre. Although her music most closely fits into the country genre, she uses many elements of rock music that allow her music to find success across the board. Despite the fact that she only came out with her first record in 1993, you don't run into many people who have not heard of her, regardless of their preference in music. The combination of her catchy songs and provocative video image are simply too hard to overlook.
Born to Clarence and Sharon Edwards in 1965, Shania's birth name is Eileen Edwards. She later adopted the name Shania Twain when she went out on her own. The name Shania comes from the Ojibway Native American Tribe meaning, "I'm on my way". Her interest in the Ojibway comes from her stepfather, Jerry Twain, whose last name she took. Shania grew up in Timmons, Ontario, Canada, although she was born in Windsor, Ontario. She developed a strong interest in music early on and was fortunate enough to have complete support from her parents. In fact, aside from supporting their daughter in singing at local places, they also helped her to pursue small parts on radio and local television. It is even said that they once pulled her out of bed in the wee hours of the night when she was only eight, after alcohol had stopped being served, so that she could sing at a bar.
Shania was the eldest of four children whom she would end up raising when her parents were killed in a tragic automobile accident when she was 21. The musical ambitions that the young singer had were put somewhat on hold until her brothers could fend for themselves. However, she did manage to support the family with her music when she got a job singing at Deerhurst Resort in Ontario. She was able to branch out her musical vocabulary here as she sometimes sang Gershwin and Andrew Lloyd Webber as well performing as a musical actress on the stage. Finally, by 1990, Shania's siblings were out on their own and she was free once again to continue her career. It was at this time that she took on the name Shania Twain.
She made a demo tape of her own original country songs, and with this tape, she went to Nashville and was signed on to Mercury Nashville. They released her first record, Shania Twain, in 1993. Although she won her record contract based on her original songs, only one of them, "God Ain't Gonna Getcha For That", was featured on her debut album. Though her debut was not a huge hit, it was a respectable success with two popular singles, "What Made You Say That" and "Dance with the One That Brought You." Her success was greater on the European music circuit and she gained the title of Rising Video Star of the Year from Country Music Television Europe.
While she was recording with Mercury, she caught the attention of Robert John "Mutt" Lange, a rock music producer who was accustomed to working with bands like Def Leopard and AC/DC. Lange had been looking for a break into country music and he got just that with Shania Twain. But that wasn't all he got, by the end of 1993, Twain and Lange were husband and wife.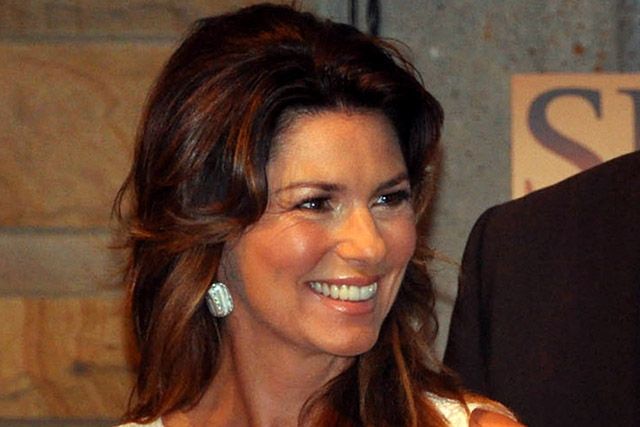 Collaborating, the two soon had enough material for a second album. The single, "Whose Bed Have Your Boots Been Under?" was released in 1995 and went to number 11 in the charts. The single's parent album, The Woman in Me, was released one month later and produced Shania's first number one hit, "Any Man of Mine." She was now on the fast track with four consecutive number one hits, each of which spent 20 weeks in the charts.
In 1996, two more singles were released, "God Bless the Child" and "Home Ain't Where His Heart Is (Anymore)." The former piece benefited the Kids Cafe's Second Harvest Food Bank, an American charity, as well as the Canadian Living Foundation that also provides food for hungry children. Shania had still not given a tour yet, although her success and popularity with the public was overwhelming. Much of her publicity was provided by heavy video promotion on MTV. Twain, along with Garth Brooks, were the first country performers to take full advantage of Music Television. So, despite the lack of live concerts, Shania's video image did the talking for her.
In 1997, Shania released another album, Come On Over, which bowled the music world over with comparable success to that of Michael Jackson's Thriller album. The hits continue to come from this album, including "You're Still The One", "Honey I'm Home" and "That Don't Impress Me Much." Currently, Shania's "Man! I Feel Like a Woman" single can be heard not only on the radio, but also on the sound track of the recent Sandra Bullock film, "Miss Congeniality."
With the help of Mutt Lange, Shania's music continues to incorporate more Rock characteristics while retaining its Country flair. Her music can be heard on many different types of radio stations and fits into several different genres. And yes, Shania finally did go on tour in 1998.
Page author: N.G.