BOB MARLEY
Here is the YouTube Mix of Bob Marley's Music.
Nearly all of the musicians we cover in this course are from the United States, Canada or Western Europe. This is partially due to the fact that rock and roll is a modern American invention whose roots are firmly planted in Western culture. Although there have been many styles of music from across the globe that have influenced rock music, particularly the increasing popularity of World Music, most of these styles have subtly merged into the mainstream. With the exception of Latin artists such as Carlos Santana, Richie Valens and a few others, in the history of contemporary rock music very few individuals from regions outside the United States and England have achieved significant critical or commercial success within the US.
However, in the 1970's one such individual from Jamaica successfully made the crossover into mainstream rock to become one of the most influential musicians of that decade and in fact, the last thirty years. Bob Marley's style of music is Reggae, which is a slowed down version of Ska. Many of you are probably familiar with Ska music because it has made a tremendous comeback in the last 10 years with bands like the Specials, Fishbone, The Mighty Mighty Bosstones, and dozens of others.
For those of you who aren't familiar with Ska, it combines 1950's American rhythm and blues with a uniquely Jamaican beat derived from African music and westernized calypso. Ska often relies on large horn sections and is very bouncy and rhythmic. In the 1960's many Jamaican musicians, including Bob Marley slowed down the energetic up-tempo beat of ska and simplified the arrangements by eliminating brass instruments all together. But the significance of reggae music goes beyond the style to incorporate more cultural and political themes that in many ways have come to define the culture of Jamaica.
Robert Nesta Marley was born in the impoverished city of Trenchtown, Jamaica in 1945 to a middle-aged white father and teenage black mother. He began playing music professionally at the age of sixteen, influenced by early American vocalists such as Sam Cooke and the Drifters. When singer Bob Marley formed The Wailers (originally called the Wailing Rude Boys) along with Peter Tosh and Bunny Livingston in 1963, their intention was to send a message that embraced the Rastafarian religion, which had emerged in the 1930's.
Their music appealed to downtrodden Jamaicans and encouraged young people to fight for peace, justice, brotherhood, equality and freedom. The evolution of their style was gradual. They referred to their earliest musical style as "rude boy music," which eventually was slowed down further into "rock steady" and finally "Reggae." Surprisingly enough, the band had been playing together for nearly eleven years, but it wasn't until 1973 that Island records released the band's first album "Catch a Fire" which included the single "Stir It Up."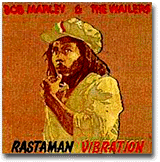 Although Bob Marley was already an international star, having introduced audiences around the world to his faith, which included the prolific use of marijuana (ganja), his culture, his message of peaceful rebellion, and most importantly reggae music, it wasn't until 1974 after the Wailers disbanded that Bob Marley achieved commercial success in the United States. After Eric Clapton hit a number one single with his cover of Marley's song "I Shot the Sheriff" Marley's career skyrocketed in the United States with his breakthrough albums, "Rastaman Vibration" and "Exodus."
In 1977, Reggae's ambassador was diagnosed with cancer, which eventually claimed his life at the age of 36, in 1981. Bob Marley and the Wailers were celebrated as heroes throughout their country and in some ways he was, and still is, seen as a semi-religious icon. In 1978, Marley was awarded the UN Peace Medal for his humanitarian work and after his death he was awarded Jamaica's highest honor, the "Order of Merit." Marley fathered 11 children by seven women, left a 30 million dollar estate, and several of his children have become important figures in the world of music. One of his sons is the father of Lauryn Hill's two children and her first solo album, "The Miseducation of Lauryn Hill" was recorded at the Bob Marley studio in Kingston, Jamaica.
Although many viewed their music as a positive and peaceful attempt to improve the socially and politically oppressive conditions present in the small poverty-stricken country, its revolutionary message was considered a threat by Jamaican authorities. In 1976, Bob Marley was nearly assassinated in Kingston, Jamaica, and a few years later both Peter Tosh and former band member Carlton Barrett were murdered in separate incidents.
As an activist and innovative musician his influence has been immense. Many bands in the 1980's and 1990's such as Burning Spear, Black Uhuru, and Steel Pulse adhered to a straightforward Reggae sound, while countless others such as The Police, The Clash, Blondie, and Lauryn Hill, have incorporated elements of Reggae in the creation of particular songs as well as their individual styles. Over the years Reggae has been fused with rock and roll, punk, hard core, rap, hip-hop, pop, techno, and more recently heavy metal. Although the social message of Reggae is often sidelined in contemporary music, many bands continue to create music that embraces Marley's themes of peace, love, and racial equality.
Page author: A.E.