LAURYN HILL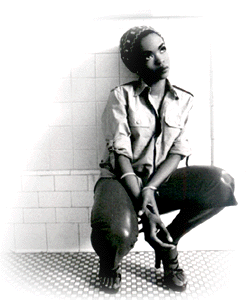 You don't always hear so much about women when it comes to rap music, and often when you do, it is about a group, not a single artist. But in 1998, Lauryn Hill, who was born in 1975, and happened to be 23 years old at the time, broke through the metaphorical glass ceiling with her debut album, "The Miseducation of Lauryn Hill". Not only did she come through as an important rap/hip-hop artist, but also she managed to combine the sounds of rhythm and blues, Motown, reggae, and soul into her rap music. Lauryn did not start out as a solo artist, but belonging to the very successful rap group called the Fugees when she was only 13.
Before she entered her professional life, Lauryn was a little girl raised in South Orange, New Jersey. Her life was never free from music as the sounds of her parents' varied music collections filled her youth. She soon found herself with roles in movies like 'Sister Act II: Back in the Habit" and on television in "As the World Turns". As a thirteen-year-old, she began to perform with the Fugees, a rap group made up of Prakazrel "Pras" Michel and Wyclef Jean. With Lauryn, the Fugees released two albums. The first, "Blunted on Reality", in 1994, was a failure that nearly drove the group apart.
But they stayed together and produced a second album, "The Score", in 1996, which went multi-platinum. The Fugees won two Grammy awards with "The Score", including Best R&B Performance By a Duo or Group with Vocal, which was won for Lauryn's moving cover of the Roberta Flack ballad, "Killing Me Softly." In the aftermath of their great success, the group decided that it was time to pursue some solo challenges.
Lauryn, who had been urged by critics to go solo at the time of the Fugees debut, now took the advice. Of course, the result was "The Miseducation of Lauryn Hill", a phenomenally huge success. In this unique compilation of music, Lauryn reached into the depths of her soul to write each song on this album.
The events that have made up her life provided the material for her music, which combines many genres, even doo-wop, as heard in "Doo Wop (That Thing)." Each song is intelligently written and provides a small vignette of Lauryn's life. A young mother of two, Lauryn includes on the album a song about her son called "Joy of My World is in Zion." Hill also offers a Jamaican flavor with "Lost Ones." In fact, the album was recorded at the Bob Marley studios in Jamaica and one of Marley's sons is the father of her two children. "The Miseducation of Lauryn Hill" amassed 11 Grammy nominations and took home 5 Grammy awards, more than any other woman for one year.
Lauryn has also written songs for other artists such as CeCe Winans, a gospel singer, for whom she wrote "On that Day." She even lent her talents to well-established artists like Aretha Franklin who used the Lauryn Hill penned song "A Rose Is Still A Rose" on her most recent release. Hill is also very proficient in the studio and directed the sister video to "A Rose Is Still A Rose." Her talents do not limit themselves to the recording studio; however, Lauryn has also turned her energies to founding The Refugee Camp Youth Project, a nonprofit organization with the goal of improving the lives of inner-city children.
Although Lauryn Hill's success cannot be denied, and her Grammys certainly show evidence of her talent, she still struggles in the musical world as a woman. In her opinion, the music world is still very male dominated. She notes that men tend to avoid bestowing the title of genius to a woman and instead opt for diva, hoping that it will suffice as an adequate compliment. Though she may still find these inequalities, Lauryn has done much to further forge the way to women being their own bosses. In fact, she wrote, produced and arranged nearly every piece on her debut album. With her undaunted determination, we can surely expect her to give the men of music a run for their money.
Page author: N.G.