INTRODUCTION: NEO-EXPRESSIONISM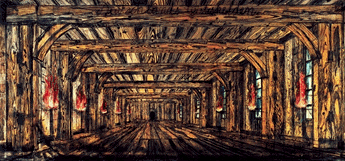 Neo-expressionism is a term given to an international art movement, which began in the 1960's and 1970's and developed into a dominant mode of art in the United States and Europe in the 1980's. The movement brought the spirit of painting back to life, although critics and other promoters of the avant-garde had proclaimed earlier that painting had died.
Young artists reacted against the reductive, impersonal character of minimalism and conceptualism, and found new vitality in painting. Instead, they were interested in executing art that was full of feeling, expression, and evidence of the artist's manual touch. The works were large, aggressive, and touched upon themes that were personal through the use of familiar, childlike imagery. Sometimes, elements of collage and three -dimensional assemblage were included to add a heightened experience and response from the viewer.
Perhaps the nature of the movement was best expressed by a prominent critic at the time, Peter Plagens, when he wrote the following words in his now famous article, "The Academy of the Bad", first published in "Art in America" in 1981. He began the article with:
There is now a phenomenon abroad in the land called, among other things, "bad" painting, "new image" painting, "new wave" painting, "punk" art and "stupid" art. Although it takes many forms, it is primarily realized in painting, where its trademarks are what looks like inept drawing, garish or unschooled color, tasteless or trivial or bizarre imagery, odd and impractical assemblage, maniacally vigorous or disinterested paint application, dubious craft and materials, and a general preference for squalor over reason.*
Although this may sound negative, or perhaps like the beginning of an article putting down such art, it was in fact a positive article that defined a revolutionary new art movement. Neo-Expressionism has been with us ever since and continues to inspire and inform young painters in the 21st century, although the original revolutionaries are now viewed almost as old masters.
Anselm Kiefer, George Baselitz, Sandro Chia, Francesco Clemente, Julian Schnabel, Susan Rothenberg, Eric Fischl, and David Salle are among the artists included in this movement of art.
Page author: L.C.
---
*Peter Plagens, "The Academy of the Bad", Art in America , November, 1981. Also available in Theories of Contemporary Art by Richard Hertz, Prentice-Hall, 1985, pp.83-91.