PEARL JAM
Another of the hugely successful bands to emerge from the Pacific Northwest music scene was Pearl Jam. Although they were often considered rivals of Nirvana, their music offered a slightly less moody and more straightforward hard rock sound. The evolution of Pearl Jam is complicated, but simply stated includes the reformation of guitarist Stone Gossard's (1966) sequential string of ill-fated bands, Green River and Mother Love Bone into what would eventually become Pearl Jam.
The styles exhibited by these early bands ranged from hard rock to bluesy glam-metal and informed the new group's sound. Eventually Gossard began searching for a singer and lyricist to front his newest, as of yet unnamed, band. He began distributing instrumental versions of his music to friends including ex-Chili Pepper's drummer Jack Irons, who in turn passed the tape along to San Diego singer Eddie Vedder (1964).
Within weeks the shy vocalist had written lyrics to what would become the band's breakthrough hit "Alive", and was recording with them in Seattle. Soon after they were calling themselves Mookie Blaylock (the name of their favorite basketball player), and had signed a deal with Epic records. Although for copyright reasons they were unable to keep the name that they had decided on, instead they named their debut release "Ten", a reference to his jersey number. Changing the band's name to Pearl Jam, after Eddie's grandmother Pearl's peyote preserves (which is said to be hallucinogenic), their first album was released to initially mild success in the fall of 1991.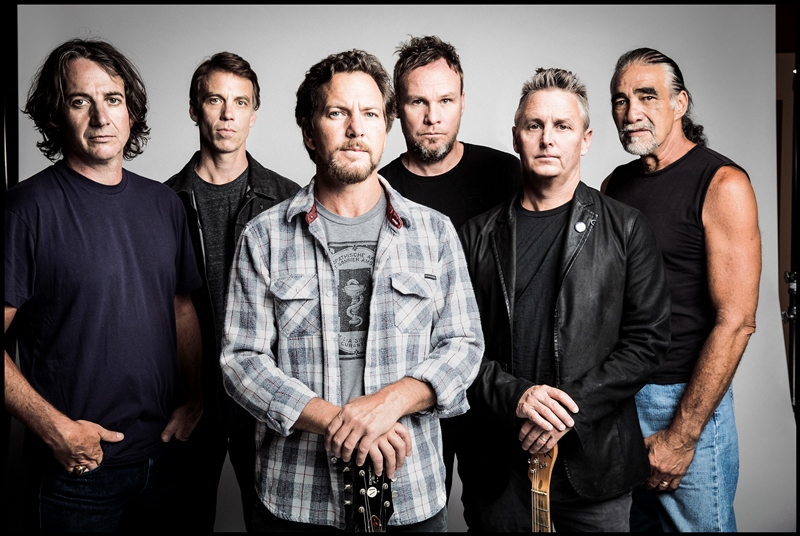 Within months "Alive" was receiving heavy airplay and the video for "Jeremy", a song about child abuse, was attracting an exceedingly high degree of attention. "Ten" went top ten and Pearl Jam followed with an 18-month tour. The band, consisting of Gossard on guitar, Vedder on vocals, Dave Krusen, who was eventually replaced by Jack Irons (1962) on drums, and bassist Jeff Ament (1963) was caught in the swirl of the grunge movement and destined for greatness.
In the first day of it's release, Pearl Jam's second album, "VS." sold 350,000 copies, and was hailed by critics as a significant alternative hard rock accomplishment. Reflecting influences from the Beatles, Rolling Stones, R.E.M. and the Police, "VS." established the band's importance. Vedder's song writing ability (which was more like story telling) captivated audiences and critics alike with its personal and universally understood themes of sadness, rage and catharsis in songs like "Elderly Woman Behind the Counter" and "Rearviewmirror".
In 1994, Pearl Jam was hit hard by the death of Nirvana's Kurt Cobain and chose to cancel their summer tour. Additionally, their courageous assault on Ticketmaster's excessive surcharges on concert tickets consumed much of their attention. Though the band had their fans best interests at heart, their battles with the ticket vending industry eventually effected their popularity, as many frustrated listeners grew impatient because of their lack of touring. A good consequence of this was that Pearl Jam now claims it allowed them to lead normal lives again.
In November 1994 they released another hugely successful album "Vitalogy" but tension within the band threatened their future. By 1996 "No Code" was released, but following that the band took a break. Just when people started to wonder if the band would ever make any new music, Pearl Jam announced a new album was on the way. Their latest effort, "Binaural" was released in spring of 2000 to reviews ranging from extremely receptive to lukewarm.
Page author: A.E.